John Maxwell is a leadership expert and coach who has trained over 6-million leaders worldwide. He is the #1 New York Times bestselling author of The 21 Irrefutable Laws of Leadership and Developing the Leader Within You 2.0. John has completely transformed my life and business through his books and teachings. For nearly two decades, I have dreamed of spending some one-on-one mentoring time with him – to 'pick his brain,' gain insight, and learn more about what it takes to be a great, inspiring, successful leader. So, I was honored to have the opportunity to turn that dream into a reality and have lunch with him earlier this month.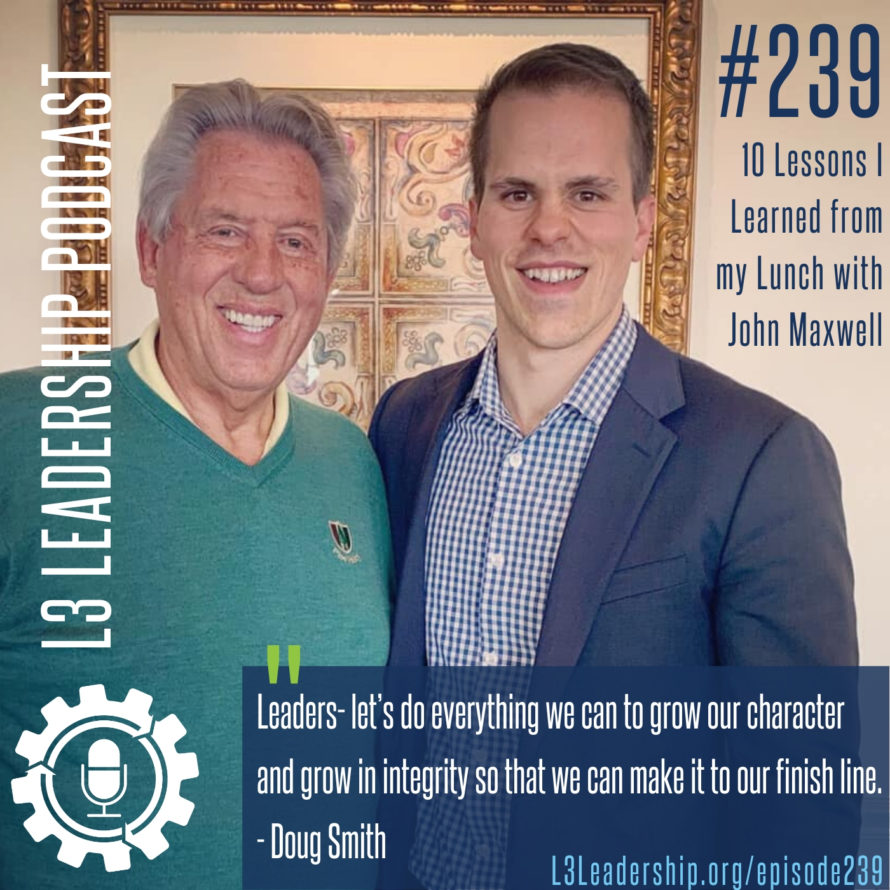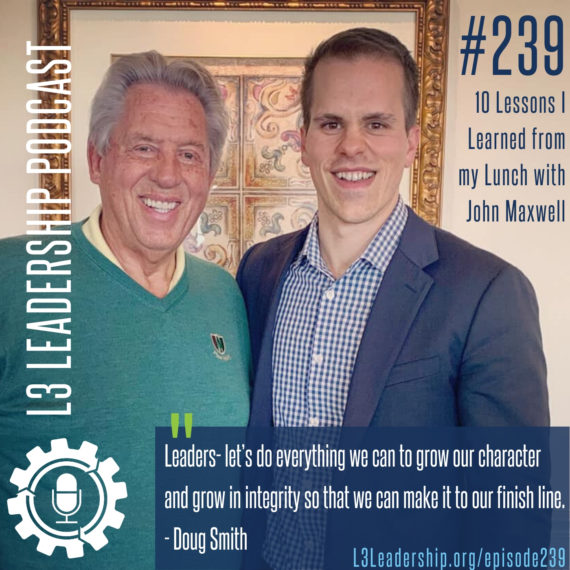 In today's episode, I share the top 10 lessons I learned from my lunch with John Maxwell. I discuss the difference between being a 'people pleaser' and being a 'people leader' and the lessons I learned from John about making the jump from pleasing others to leading them. I share the insight John provided about growing and developing company teams and the importance of being intentional.
"Leaders – let's do everything we can to grow our character and grow in integrity so that we can make it to our finish line." – Doug Smith
Today on the L3 Leadership Podcast:
●      Making the jump from pleasing people to leading people
●      John's advice and insight on developing your team
●      The process John uses to recruit new leaders
●      The importance of trusting in God to provide what you need to grow and succeed
●      John's perspective on branding and making a name for yourself
●      John's thoughts on vision-casting, fundraising, and mentoring others
Resources:
●      Developing the Leader Within You 2.0 by John C. Maxwell
Join Us at the 2nd Annual L3 Leadership Conference!
Leaders… You are one idea and one connection away from changing your destiny – and the destiny of your company. If you're ready to be inspired, motivated, and influenced to change the future of your organization, to lead effectively, and to inspire others within your company and community – join us for our 2nd annual L3 Leadership Conference.
When: Friday, March 13, 2020 Where: Pittsburgh Marriott North, Pittsburgh, PA  Registration: www.L3OneDay.com
Exclusive Discount for L3 Leadership Podcast Listeners! Use the promo code: Podcast to receive an exclusive discount on your ticket price.
This episode is sponsored by: Beratung Advisors
Beratung Advisors help educate and empower clients to make informed financial decisions. Learn more about how Beratung Advisors can help you make a customized financial plan and create the financial future you deserve by visiting BeratungAdvisors.com.
This episode is sponsored by: Henne Jewelers
Voted Pittsburgh's Best Jewelry Store, Henne Jewelers has served the Pittsburgh region and beyond with beautiful jewelry and unbeatable customer service since 1887. With a full collection of luxury watches, diamond rings, and estate and designer jewelry, Henne Jewelers not only provide beautiful jewelry for every occasion – they also invest in people. At Henne Jewelers, our mission is to go beyond jewelry purchases, to enhance and strengthen relationships. Learn more about Henne Jewelers and our To Have and To Hold Program for newly engaged couples by visiting HenneJewelers.com.
Support the show (https://www.patreon.com/l3leadership)