This Learning to Lead podcast episode comes to you from our interview series. I interviewed Scott Stevens, who is the lead Pastor of North Way Christian Community, one of the largest churches in the Pittsburgh area. I absolutely love Scott. He has a huge heart for developing the next generation, he's extremely humble, and one of the best team builders I've met. He's also going to be speaking at our upcoming L3 Leadership Breakfast on February 27th. If you'd like to attend the breakfast, go to L3Leadership.org/breakfast to register. Enjoy this interview with Scott!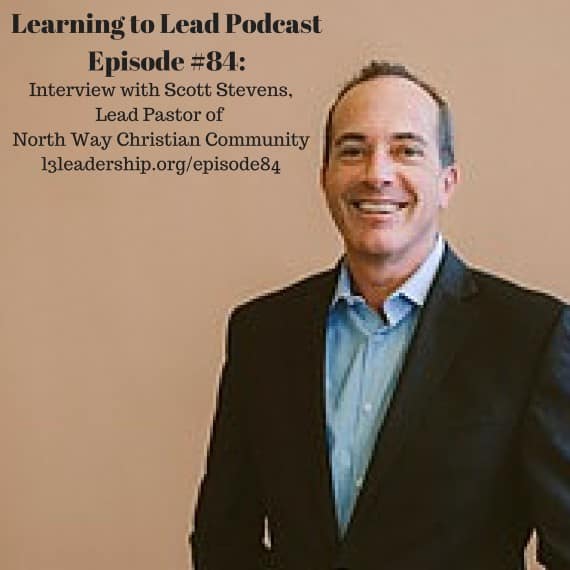 Scott's Bio:
As the Lead Pastor, Scott is the directional leader, overseeing Campus Pastors and the Teaching Team. He leads the Executive Leadership and Operational Ministry Teams. Before becoming the Lead Pastor, he served as Family Pastor for six years and Executive Pastor for three years. He served many years in ministry before coming to North Way in 2002. Scott is a native Pittsburgher with a love for all things "Pittsburgh." He lives in Wexford with his wife Tina, and their two daughters, Alyssa and Erin. "Go Bucs!"
Connect with Scott:
Questions:
Tell us about yourself, your family, your passions!
What's one thing about Scott Stevens that people would be surprised by?
When you think of success, who is the first person that comes to mind?
Can you name one or two people who have had a tremendous impact on you as a leader? Why and how did this person impact your life?
What are you doing and what have you done to ensure you continue to grow and develop as a leader?
What books have you read that have made a great impact on you that you would recommend?
You made the jump from being a Executive Pastor to being the Senior Pastor, I'm sure that required you to grow a lot, what did you learn through that process?
Can you talk about the structure of your leadership team and how you pour into them?
Talk about your view on conflict and how you handle it!
Could you talk about one or two of your greatest leadership failures? What did you learn from them?
How do you balance ministry with your family life?
How do you process pain as a leader?
Leadership:
What do you think is the biggest challenge facing leaders today?
You're passionate about developing the next generation. How do you actually do that?
Can you talk about how you develop your emerging leaders at North Way?
Young Leaders:
What qualities do you look for in up and coming leaders?
What can young leaders do to set themselves apart in their organizations?
Where do you see young leaders "missing it" most often?
If you could give young leaders any advice, what would it be?
Closing Questions:
If you could go back and give your 20 year old self advice, what would you tell him?
What are you currently working on that you're excited about and how can our audience serve you?
Our of everything you've accomplished in your life and ministry, what are you most proud of?
What do you want your legacy to be?
Sponsor:

I'd like to thank our sponsors, 068, an incredible company led by Daniel Bull. Daniel has been a speaker at our breakfast, you can listen to his story at l3leadership.org/episode75." Zero Six Eight collaborates with ex-convicts who demonstrate a drive for entrepreneurial achievement. By supporting the skills and interests of these entrepreneurs, we work to launch innovative products and services that w ould otherwise face considerable barriers." To learn more about 068, go to http://www.zerosixeight.org/.
Learning to Lead Announcements: 
1.) Learning to Lead Breakfast Series – Our next leadership event will be a lunch on Saturday, February 27th, 2016 at 8 a.m. at Babb, Inc. on the North Side. Our speaker is Scott Stevens, Lead Pastor of North Way Christian Community. Register here!
2.) L3 Leadership Mastermind Groups – We have a small groups of young leaders that get together twice a month to discuss leadership, hold each other accountable to our goals, and to build a community of leaders passionate about making a difference in our city. If you're interested in attending, e-mail me at dougsmith@l3leadership.org.
How You Can Help this Podcast:
 To listen to past interviews, go to my podcast page.
Share the content on Social Media
If you have an idea for a future podcast you would like to hear or a leader you would like me to interview, e-mail me at dougsmith@l3leadership.org.
If you enjoyed the podcast, please rate it on iTunes and write a review.
If this post helped you and you believe it could help others, please recommend it on Facebook, Twitter, Stumble Upon, and the other social media sites listed below. Also, I would love to hear your thoughts on this post. Leave a comment below! Thank you!
Subscribe to our Blog via RSS feed
Subscribe to our Blog via E-mail
I would also encourage you to subscribe to this blog via RSS feed or e-mail! You can sign-up for e-mail by typing your e-mail address in the box on the left hand side of this site that says "E-mail updates".