In this episode of the L3 Leadership podcast, you will hear our interview with Julie Mullins, Senior Pastor of Christ Fellowship in West Palm Beach, Florida. This interview is broken into two episodes. In this episode, you will hear Julie talk about organizational leadership, how to develop and sustain culture, her favorite books, her advice to her younger self, and more.
In part one of the interview, which you can listen to in episode #157, you will hear Julie share her advice for women in leadership, how to handle the tension between being a mom and building a ministry, how to make it in leadership over the long-haul, and how to pull off a successful leadership transition. You'll find links to connect with Julie below. I hope you enjoy this as much as I did!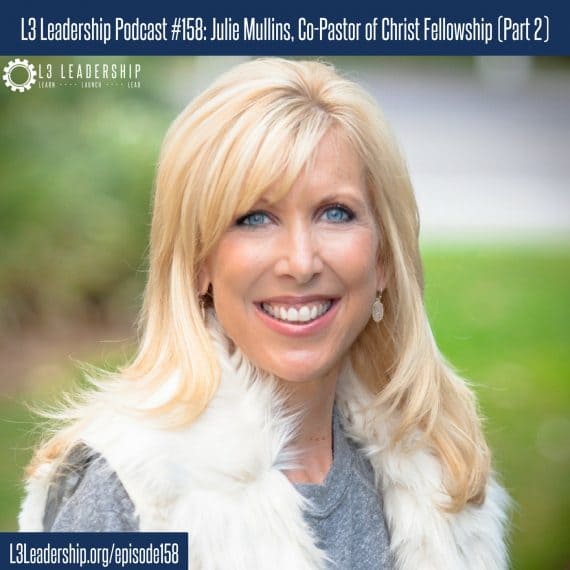 To view a transcription of this episode, go here!
Listen to the Interview:
Watch the Interview:

Connect with Julie Mullins:
Julie's Bio:
Julie Mullins and her husband, Todd, are the Senior Pastors of Christ Fellowship Church in South Florida.  Christ Fellowship is a diverse, multi-site church that is having a great impact regionally and around the globe. Julie serves on the Directional Leadership Team and is passionate about building healthy church culture and empowering leaders.
Julie started Hope for Freedom – an initiative to fight human trafficking in her home state – and opened the first safe house on the east coast of Florida, caring for trafficked minor girls. Her "favorites" are building a church with her husband, watching their son lead worship and great pastries #foodie. Julie and Todd love serving on the ARC Lead Team and believe in the mission and vision of planting life-giving churches.
Julie's Recommended Books:
Key Takeaways:
Our culture will either be by design or by default. -Julie Mullins
Click To Tweet
Excellence increases influence. -Julie Mullins
Click To Tweet
Conflict is an opportunity for unity. -Julie Mullins
Click To Tweet
Links Mentioned in this Episode:
If this post helped you and you believe it could help others, please recommend it on Facebook, Twitter, Stumble Upon, and the other social media sites listed below. Also, I would love to hear your thoughts on this post. Leave a comment below! Thank you!
I would also encourage you to subscribe to this blog via RSS feed or email! You can sign-up for e-mail by typing your e-mail address in the box on the side of this site that says "E-mail updates".