Today, Anthony joins me to discuss the ideas and strategies from his book Debt-Free Degree and share his insights on how to approach the education system without going into debt. He shares his thoughts on student loan forgiveness and how ending student loans would impact the cost of college.
Download Shownotes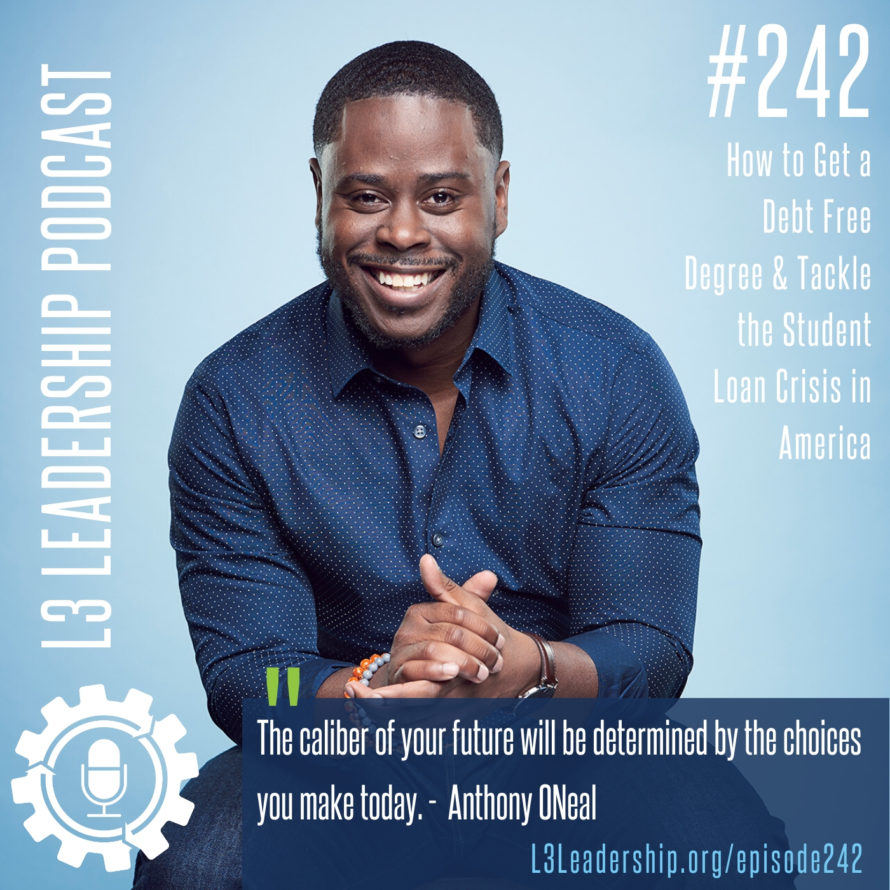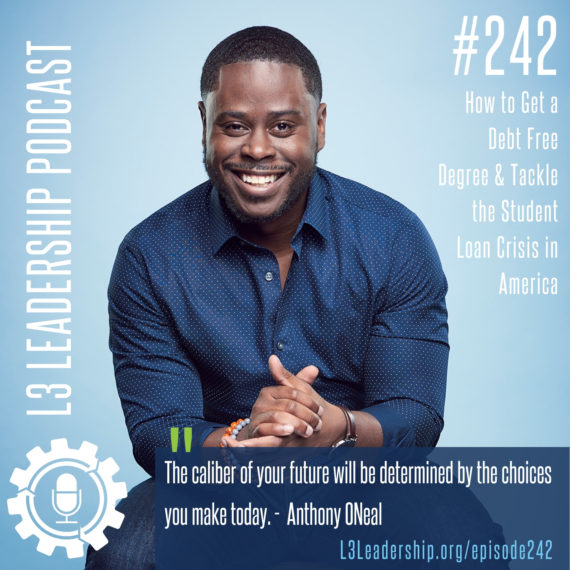 Anthony ONeal is a thought leader on topics including money, life, and education. He is the best-selling author of Debt-Free Degree and Graduate Survival Guide: 5 Mistakes You Can't Afford to Make in College.  Anthony, who turned his life around after being massively in debt at the age of nineteen, is a public speaker providing valuable insight to teenagers and millennials around the country on how to start their lives and careers on the right track. He has been featured on CNN, Fox News, and the Dave Ramsey Show.
"The caliber of your future will be determined by the choices you make today." –  Anthony ONeal
Today on the L3 Leadership Podcast:
Why Ramsey Solutions focuses on addressing the student debt crisis
Insight into Anthony's book Debt-Free Degree, and the intended purpose of the book
The impact of student loans, and whether they set up young people for success or failure
How to get through college debt-free
Advice for students and families who haven't financially planned for post-secondary school
Whether a traditional educational route is necessary for success
The common motivation most young people have for making their educational decisions
Anthony's thoughts on student loan forgiveness, and when he believes the government should play a role in student loans
Connect with Anthony ONeal:
This Episode is Sponsored By:
Join Us at the 2nd Annual L3 Leadership Conference!
Leaders… You are one idea and one connection away from changing your destiny – and the destiny of your company. If you're ready to be inspired, motivated, and influenced to change the future of your organization, to lead effectively, and to inspire others within your company and community – join us for our 2nd annual L3 Leadership Conference.
When: Friday, March 13, 2020 Where: Pittsburgh Marriott North, Pittsburgh, PA Registration: www.L3OneDay.com
Use the promo code: Podcast to receive an exclusive discount on your ticket price. See you there!
Support the show (https://www.patreon.com/l3leadership)