Today we are having a special episode in honor of our 2nd annual L3 One Day Conference that is coming up on Friday, March 13th, 2020.
Today, you'll get to hear a talk from L3 One Day 2019 by my friend and mentor, Matt Keller, Pastor of Next Level Church in Ft. Myers Florida. He kicked off our first conference with a talk called, "The Leader that Succeeds today." It's incredible. I want you to hear it so you can get a preview of the kind of talks that will be at L3 One Day 2020.
Subscribe to our Podcast: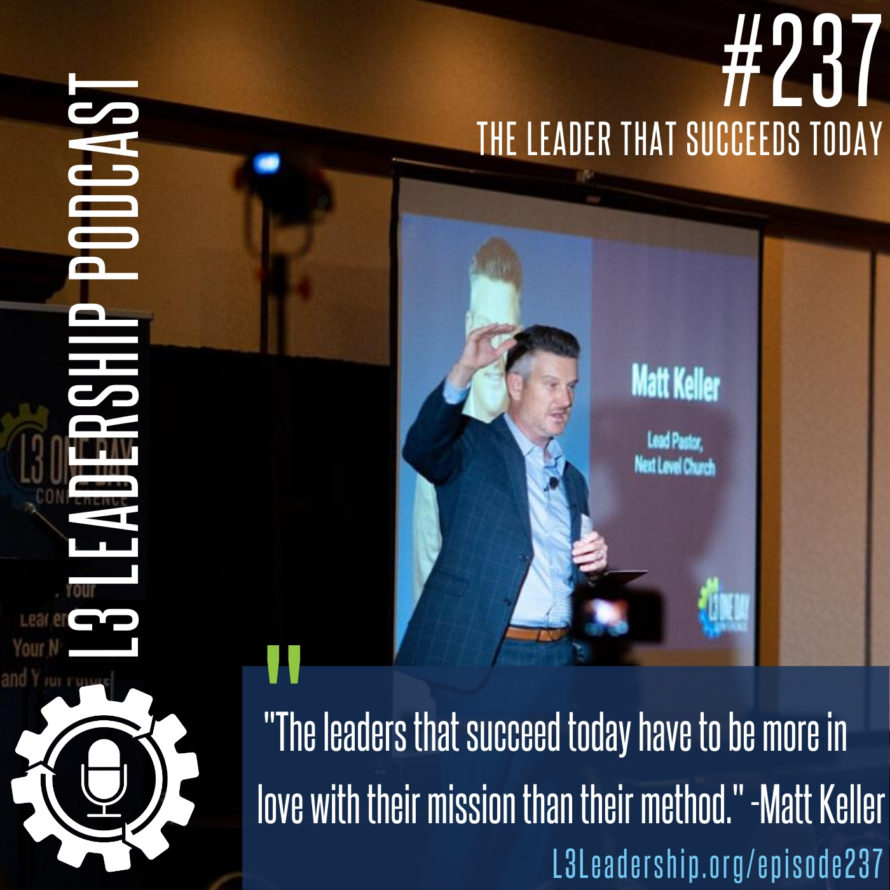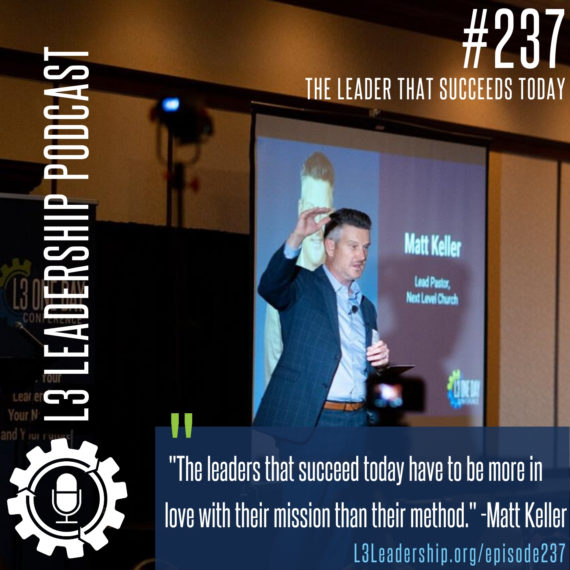 We have an incredible lineup of speakers for you this year at L3 One Day: we have Jeff Henderson, Author of the Book "For" who works at Northpoint Church for Andy Stanley and worked at Chik-fil-a corporate prior that. We have Laura Ellsworth who is the Partner in Charge of Global  Community Service Initiatives at Jones Day and is one of the best speakers I've heard. Bill Strickland, Founder and Chairman of the Bidwell Training Center here in Pittsburgh, Greg Weimer, Partner of Confluence Financial, and more.
I believe you are one idea and one connection away from changing your destiny and the destiny of your organization. Leaders get into the room! You have no idea what you miss when you're not in the room. I love what Gerald Brooks said about being in the room: "Leadership can be taught, but it has to be caught. When you're in a room with high-level leaders, you feel it. It's not the lesson you need, it's the life of a leader you need."
I know for me, the life of the leaders I've been able to connect with has meant everything for my growth. Please join us! We're offering a special discount for podcast listeners.
REGISTER FOR L3 ONE DAY:
Go to http://www.L3oneday.com/register and use the Promo Code: podcast to get $10 off of your ticket.
ABOUT MATT KELLER:
Matt Keller is the founding pastor of Next Level Church in Fort Myers, Florida. Known for his passionate and humorous communication style, Matt travels and speaks frequently, inspiring and teaching leadership both inside and outside of the church world. Matt writes frequent articles on his website, www.mattkelleronline.com and can be found on Twitter @matthewkeller. Matt & his wife Sarah have two boys, Will & Drew. Matt's favorite candy continues to be Skittles.
CONNECT WITH MATT:
If this podcast helped you and you believe it could help others, please share it on social media and consider leaving us a rating and review on iTunes. Also, we would love to hear your thoughts on this episode. Leave a comment below!