Welcome to episode #97 of the Learning to Lead podcast. My name is Doug Smith and I am the founder of L3 Leadership, a leadership development company devoted to helping you become the best leader you can be.
If you're new to the podcast, this is a podcast to help you grow your leadership skills. Every month we have 3 episodes, one from our leadership breakfast, one interview with a high level leader, and one leadership lesson by me.
If you've been listening to the podcast for a while, I'd really appreciate it if you can leave a rating and review on iTunes for us!
Episode #97: An Interview with Sean Ammirati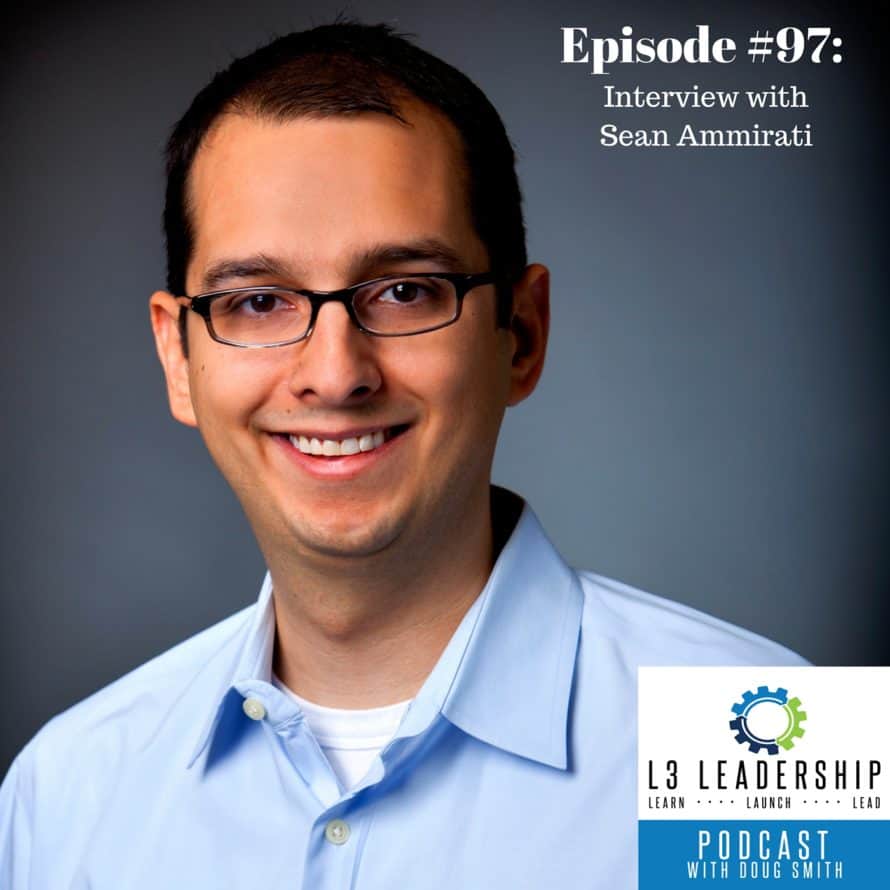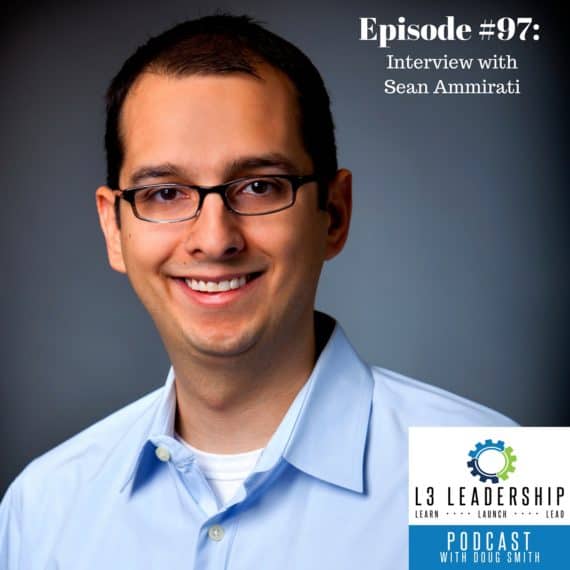 Interview with Sean: 
This episode comes to you from our interview series, in which I interview great leaders and try to extract their best leadership practices. In this episode, I had the privilege of interview Sean Ammirati. Sean is an Entrepreneur turned Venture Capitalist and Professor.  He built and sold his own businesses and now he spends his time helping others grow theirs. One of his companies was acquired by LinkedIn. He's also a professor of Entrepreneurship at Carnegie Mellon University.
In this episode, you'll hear Sean's thought on entrepreneurship and leadership. In Episode #96 we talked about Sean's book, The Science of Growth: How Facebook Beat Friendster and Nine Other Star-ups left the rest in the dust!
What I love about this book:
It's backed up by research
Sean's lived it
It gives you an action plan for your business.
Sean's Bio:
Sean Ammirati joined Birchmere Ventures in 2012 to as the partner leading Birchmere Labs, a seed and studio fund focused on community driven commerce startups.
Prior to that, he had over 12 years founding, building and selling businesses in the media and software industries. Sean was previously Chief Operating Officer of ReadWriteWeb, one of the most influential sites about the future of technology and innovation. In December 2011, the company was acquired by SAY Media to strengthen its technology channel. Sean was previously co-founder and CEO of mSpoke, which was the first acquisition of LinkedIn.
Sean is currently an Adjunct Professor of Entrepreneurship at Carnegie Mellon University. He also was a founding advisor to Innovation Works' AlphaLab accelerator. He holds a B.S. in computer information systems from Grove City College and was a research fellow at Carnegie Mellon's Sloan Software Industry Center.

Connect with Sean:
Join us for a Pirates Game & Tailgate with Sean Ammirati
Join us for a Pirates Tailgate Party with Chik-Fil-A and a talk by Sean Ammirati followed by watching the Pirates take on the San Francisco Giants. We will be meeting at the Smith Brother's Agency's 4th Floor Space, which is amazing. Everyone who attends the event will get a free copy of Sean's new book, "The Science of Growth: How Facebook beat Friendster and how Nine Other Startups Left the Rest in the Dust."
Doors open at 5:30 p.m.
Sean's talk will start at 6 p.m.
We will head to the Pirates game around 7 p.m.
Tickets are limited. Get your tickets here! 
L3 Leadership Announcements: 
1.) Learning to Lead Breakfast Series – Our next leadership event will be a breakfast on Saturday, May 21st  with Jeff Leake, Pastor of Allison Park Church!  Register here for this event! 
2.) Learning to Lead Small Groups – We have a small groups of young leaders that get together twice a month to discuss leadership, hold each other accountable to our goals, and to build a community of leaders passionate about making a difference in our city. If you're interested in attending, e-mail me at dougsmith@l3leadership.org.
How You Can Help this Podcast:
 To listen to past interviews, go to my podcast page.
Share the content on Social Media
If you have an idea for a future podcast you would like to hear or a leader you would like me to interview, e-mail me at dougsmith@l3leadership.org.
If you enjoyed the podcast, please rate it on iTunes and write a review.
Did this episode impact you? Let us know how by commenting below!
If this post helped you and you believe it could help others, please recommend it on Facebook, Twitter, Stumble Upon, and the other social media sites listed below. Also, I would love to hear your thoughts on this post. Leave a comment below! Thank you!
Subscribe to our Blog via RSS feed
Subscribe to our Blog via E-mail
I would also encourage you to subscribe to this blog via RSS feed or e-mail! You can sign-up for e-mail by typing your e-mail address in the box on the left hand side of this site that says "E-mail updates".