This episode of the Learning to Lead podcast comes from our interview series. This episode is extremely special to me because I interviewed one of my heroes, Larry Bettencourt today.
No one has had a bigger impact on my life than Pastor Larry. You would not be listening to this podcast if it were not for Larry Bettencourt. In fact, if you've been impacted by anything I've done with my life,  it would not have happened without Past or Larry's influence on my life. I met Larry when he was a Youth Pastor at Victory Family Church. He was the first person to invest in me, to believe in me, to see things in me that I didn't see in myself, and to give me opportunities that nobody else would have ever given me!
I tell people often that all we are trying to do through L3 Leadership is to do for others what Pastor Larry has done for me and so many others. Pastor Larry also spoke at one of our Learning to Lead breakfasts this year. You can listen to his talk from the breakfast here. I know this interview will add value to your life! Below you will find Larry's bio, links to connect with Larry, ways to help this podcast, and more! Enjoy the interview.
To stay up to date with Learning to Lead, subscribe to our e-mail list!
Button Text
Episode #77: Interview with Larry Bettencourt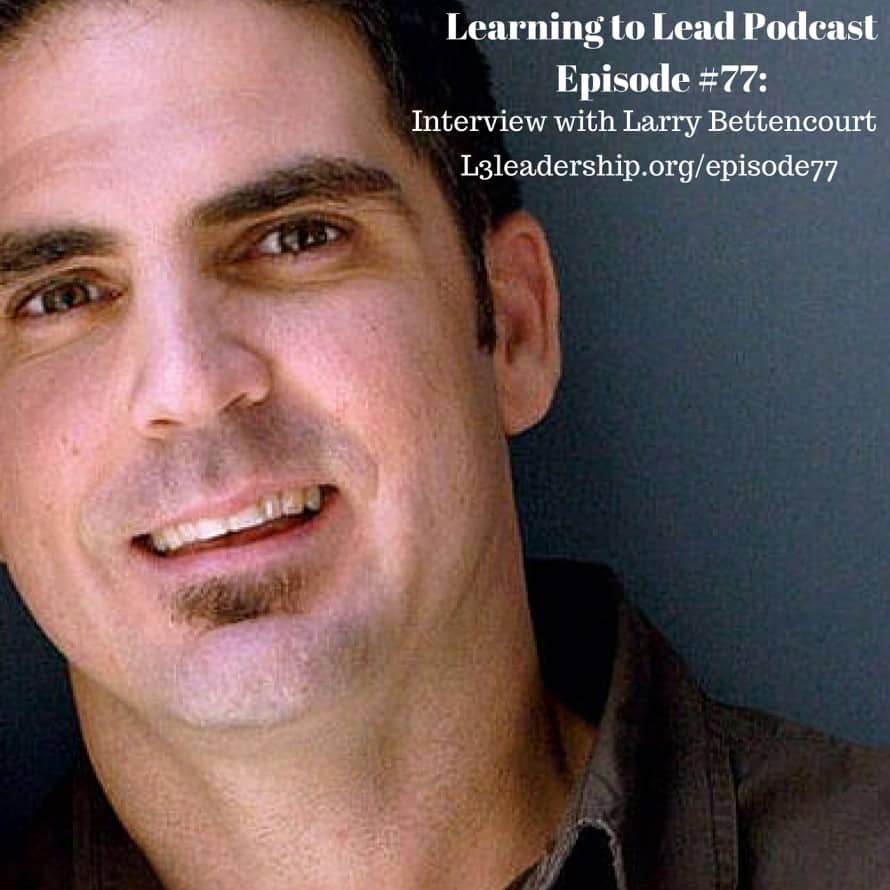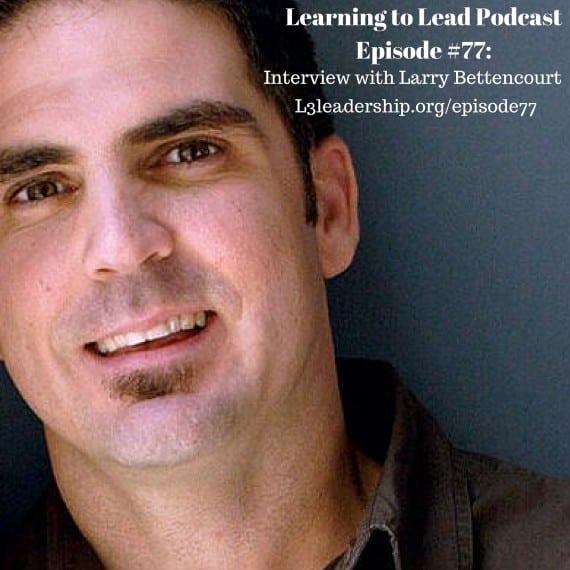 Larry's Bio:
Pastor Larry Bettencourt and his wife Kim are the founding lead pastors of Champion LifeChurch in Beaver Falls, PA (Chippewa Twp.). The church launched in April 2011 and is steadily growing with 250 people. Larry and Kim served in ministry for over 23 years. Larry has served as a youth pastor in the Western PA area since he moved here from New Orleans to attend Geneva College in 1986. From a youth leader for Young Life, a veteran youth pastor, and a youth pastor coach and church planter, his desire is to help pastors and leaders thrive in the calling God has for them.
In 2007, Larry became the founder of Finishline Ministries. Finishline Ministries exists to "Strengthen the Local Church" in coaching, equipping and training leaders. Larry has a Master Degree in Organizational Leadership from Geneva College, as well as undergraduate Degree in Elementary Education. Larry holds a Degree in Theology from Life Christian University. Pastor Larry has authored the book, Put It Behind Ya , which encourages you to "press toward the high call of Jesus Christ without the past holding you back." Larry and his wife Kim live in Beaver County, PA with their four daughters.
Connect with Larry:
Key Takeaways: 
Always ask God, "What's my assignment today?"
Love your family! 20-second hugs!
Some of our expectations need to be thrown out the door – Things taker longer than you think they will
Success is helping change lives
Mentors come for reasons and seasons
Emotional health starts with me
Be secure enough to ask people how to be better – let them speak into your life
I'd rather win with family then win with ministry
There will be time for more ministry down the road, there won't be time to invest in your kids again when they are grown
When developing people, always ask yourself what you think they need now in their development
If you're going to change young people's lives then you've got to clock time together!
The best coaches coach in the moment
Give people steps and see what they do
Young leaders don't want to move the chains, they want touchdowns.
Show-up, Shut-up, and Shovel!
Learning to Lead Announcements: 
1.) Learning to Lead Breakfast Series – Our next leadership event will be a lunch on Saturday, December 12th at 8 a.m. at Bistro to Go on the North Side. Our speaker is Dean Owrey, CFO of UPMC Enterprises and ISD. Register here for the breakfast!
2.) Learning to Lead Small Groups – We have a small group of young leaders that get together twice a month to discuss leadership, hold each other accountable to our goals, and to build a community of leaders passionate about making a difference in our city. If you're interested in attending, e-mail me at dougsmith@l3leadership.org.
How You Can Help this Podcast:
 To listen to past interviews, go to my podcast page.
Share the content on Social Media
If you have an idea for a future podcast you would like to hear or a leader you would like me to interview, e-mail me at dougsmith@l3leadership.org.
If you enjoyed the podcast, please rate it on iTunes and write a review.
If this post helped you and you believe it could help others, please recommend it on Facebook, Twitter, Stumble Upon, and the other social media sites listed below. Also, I would love to hear your thoughts on this post. Leave a comment below! Thank you!
Button Text
Button Text
Button Text
Button Text
I would also encourage you to subscribe to this blog via RSS feed or e-mail! You can sign-up for e-mail by typing your e-mail address in the box on the left hand side of this site that says "E-mail updates".